---
Bishop's Directives
Beginning with the closure of churches at 7:00 p.m. on April 1, doors are to remain closed, that is completely locked, at all times. All churches will remain closed until further notice.
Read more about the April 1, 2020 directives from Bishop Mark L. Bartchak here.
---
Easter
See the two sections below for information.
1) Pastor's Corner
This week is the holiest week of the year for Christians. It will conclude with three days-only seventy-two hours—in which the greatest events of our redemption were accomplished—the Triduum of the crucified, buried and risen. The Sacred Easter Triduum has been seen as a time of silence, during which the Church mourns the sufferings and death of the Divine Spouse. These "still days" invite us to deeper reflection on the salvation won for us on the cross. Consider how you will spend these days of prayer and contemplation and join us in the many opportunities we have to deepen our experience of these sacred days.
2) Palm Distribution
Due to the Coronavirus we have been asked not to place palm out for people to take because of numerous people handling it. Palm will be blessed and distributed when the virus subsides. It may be a little dry, but it's still good.
---
Communication — Flocknote
We invite you to register your email and cell phone at flocknote.com or you can text Rose to 84576. This will allow us to send you up to date information on changes with our parish schedule, rescheduling of Confirmation, and possibly rescheduling First Communion.
You can also check our parish website, daily for any announcements.
---
Spiritual Communion
With Masses not open to the public, if you watch online or on the television the following prayer can be offered to connect yourself to the Eucharistic celebration or at anytime you want to receive Christ spiritually:
My Jesus,
I believe that You are present in the Most Holy Sacrament.
I love You above all things, and desire to receive you into my soul.
Since I cannot at this moment receive you sacramentally,
come at least spiritually into my heart.
I embrace You as if You were already there
and unite myself wholly to You.
Never permit me to be separated from You.
Amen.
---
Rosary During the Coronavirus Outbreak
Pope Francis invites everyone to join him each night at 9:00 PM to pray the rosary together.
Father Brian suggests the Sorrowful Mysteries with the following intentions:
The Agony in The Garden - For those struggling with fear and anxiety during this time.
The Scourging at the Pillar - For those suffering from the Coronavirus.
The Crowning with Thorns - Those who have lost their jobs during this pandemic.
Jesus Carries His Cross - For all medical professionals.
The Crucifixion - For those who have died.
---
FORMED — Faith at Home
In an effort to assist Catholics everywhere, we are opening our doors to make the FORMED platform free to everyone for the next 40 days. Sign up today and get immediate access to the best Catholic movies, faith formation videos, audio talks, and great children's videos.
Access FORMED and connect with your faith via iOS, Android, Desktop, connected TV (TVOS and ROKU) or XBOX.
---
Do You Need Help Or Can You Help?
If you need help getting groceries and the like, or if you can help parishioners in need, please contact the parish rectory at 814-944-8509.
---
COVID-19 RESTRICTIONS
In light of the COVID-19 epidemic, the parishes of the Altoona-Johnstown Diocese will not be offering public liturgies. All public Masses, Novenas, and Stations of the Cross are cancelled until the crisis passes.
We will open the church daily from 8:00 am to 5:00 pm for private prayer.
We will also offer exposition of the Blessed Sacrament daily from 8:00 am to 11:00 am.
We encourage you to join Bishop Mark for the 11:00 am Mass on Sunday on ABC.
Gathering as a family to pray the Rosary or to reflect on the Daily/Sunday Readings would be a wonderful family experience during this time. The Word Among Us (www.wau.org) is offering free access to their resources to help.
I will also continue to be available for Saturday confessions at 12 noon or for appointments if you wish.
If you are able to continue your support of the parish and our continued outreach to those in need in our community, please consider giving online, using the mail or dropping off your envelopes.
I want to thank you for your consideration during this difficult time and let us all continue to pray for the health and safety of all.
Fr. Brian
---
Novena to St. Rocco Against Contagious Diseases
Prayed for Nine Days
O Great St. Rocco, deliver us,
we beseech thee, from contagious diseases.

Through thy intercession,
preserve our bodies from illness,
and our souls from the contagion of sin.

Obtain for us salubrious air, but,
above all, purity of heart.

Assist us to make good use of health,
to bear suffering with patience,
and, after thy example,
to live in the practice of penance and charity,
that we may one day enjoy the happiness
which thou has merited by thy virtues.

St. Rocco, pray for us – 3 times.

---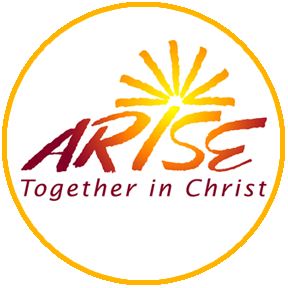 ARISE — Together in Christ
Check out this "ARISE Interview" from the Diocese of Altoona-Johnstown on Vimeo.
This is a three-year program being offered over five, six-week periods, during the seasons of fall and Lent. We encourage you to attend all of the sessions, but it is not required. Each six-week session has a specific theme and are 90 minutes. A book for each six-week period will be necessary and available for an $11.00 purchase. Saint Rose of Lima will have several parishioners, along with Fr. Brian, who will be leading the different groups, of this faith sharing program.
The Benefits of ARISE are:
Enables parishioners to develop a closer relationship with Christ.
Deepens faith through prayer and sharing in small communities.
Encourages putting faith into action in daily life.
Foster spiritual renewal and bonds of friendship in the parish.
Offers specific approaches and resources for inviting parishioners.
Emphasizes outreach to youth and young adults.
If you have questions about the ARISE! program, please call Carole Housum at 695-7249 or email DCSUM@atlanticbb.net.
---
Child Abuse Prevention
---
Online Giving
Online giving to Saint Rose of Lima, via PayPal, is now available.
You do not need to create or have a PayPal account to donate.
If you're not able or interested in donating online via PayPal, visit our additional information page to learn of other ways you can financially help support our parish home.
And, if you don't have online access, contact Fr. Brian at 944-8509, to learn how you can help our parish home, financially-speaking or otherwise.
Thank you to all our testers for taking the time to test the process out! Your efforts were greatly appreciated!
---
Prayer Requests
You can now submit prayer requests, from our website, to our Parish Prayer Chain.
Mass Times
Sunday Obligation
Saturday — 4:00 PM
Sunday — 8:00 AM, 10:30 AM
Weekdays
Monday — Friday - 8:30 AM
Traveling?
Visit masstimes.org to find a convenient Catholic Church.
Reconciliation
Saturday — 12:00 Noon and after 4:00 PM Mass
Sacraments
Baptism of Infants and Young Children
Parents should contact the rectory well before an expected Baptism, before birth when possible, to prepare for and schedule baptisms. Call the Rectory Office at 814-944-8509 to learn more.
Reconciliation
A two-year formal preparation begins when your child is enrolled in Religious Education, either while attending the Parochail School or Saint Rose of Lima Sunday School. To learn more, contact Bernice Shoenfelt at 814-944-8509.
First Holy Communion
A two-year formal preparation begins when your child is enrolled in Religious Education, either while attending Parochial School or Saint Rose of Lima Sunday School. To learn more, contact Bernice Shoenfelt at 814-944-8509.
Confirmation
Preparation begins in grade nine. To learn more, contact Bernice Shoenfelt at 814-944-8509.
Religious Vocation
Adults and older children considering a Religious Vocation may contact the Rectory at 814-944-8509.
Marriage
Couples interested in celebrating the Sacrament of Matrimony must meet with a priest at least nine months before the proposed wedding date. To learn more, contact Father Saylor or Father Spishak at 814-944-8509.
Anointing of the Sick
Arrangements can be made by contacting the Rectory at 814-944-8509.
---
RCIA
RCIA means Rite of Christian Initiation of Adults and Children. Christian Initiation is a spiritual journey of adults and children. It is a process by which uncatechized individuals and individuals Baptized in another Christian denomination learn about the Catholic Church. Catholic sponsors who are willing to share their faith experiences with new members and journey with them throughout the process are always needed. Those seeking to become Catholic may contact the Rectory at 814-944-8509.
---
Prayer Requests
If you would like to have our Parish Prayer Chain pray for your intentions, please comelete the form below. A copy of what you submit will be sent to the email address you provide below. All fields are required.
---